Contact your South Florida experts today
We specialize in creating innovative, space-saving solutions for any business. Here are a few examples to show you how we can dramatically improve the day-to-day operations of your company through the introduction of high density filing systems and other equipment or technology.
To get more details on our projects, please click on our case studies below.
Case Study: A storage solution for paper documents
Client: Miami Dade Human Services Department
Location: Miami, FL

Challenge: MDHS was faced with the challenge of keeping a growing number of confidential files organized in a limited amount of space.
Solution: We created a mobile shelving system with locking Tambour Doors that maximized and secured the existing filing space. Our shelving system increased the filing capacity at MDHS by 300% easily, providing enough storage space for existing files and future growth. We introduced Virtual Labels custom label software to optimize file organization by recognizing patterns of color and barcodes.
| | |
| --- | --- |
| BEFORE: | AFTER: |
Case Study: A storage solution for archive boxes
Client: Broward County North Courthouse
Location: Broward County
Challenge: The Clerk of Courts was expanding their warehouse storage space and needed the right shelving for the job of storing LLC. bankers boxes filled with critical court case folders.
Solution: We installed a shelving system for storing thousands of archive boxes inside the North Courts' new warehouse space. We erected heavy duty rivet span posts and beams within 18 inches of the warehouse's ceiling with openings sized for optimal box storage and access. Particle board decking was installed to provide a firm yet inexpensive base for the heavy archival boxes.
| | |
| --- | --- |
| BEFORE: | AFTER: |
Case Study: A storage solution for confiscated weapons
Client: Broward County Sheriff's Office
Location: Broward County
Challenge: The Broward County Sheriff's Office confiscates thousands of illegal weapons a year. Many of those weapons are kept for forensic testing in order to help solve similar crimes. The Broward County Sheriff's Office needed more space and better organization for guns, pistols, ammunitions and evidence.
Solution: We installed a mobile shelving system tailored to organize weapons and evidence of various shapes and sizes for a tight space. The compact mobile weapon storage system was equipped with steel gun racks for rifles, barrel pegs for hand guns and shelving for evidence. The barrel pegs were ordered in various diameters to neatly store BSO's eclectic collection of unique pistols.
Case Study: Early Learning Coalition Storage System Consolidation Project
Client: Early Learning Coalition (ELC)
Location: Miami-Dade County
Challenge: When the Early Learning Coalition (ELC) took over child development services from Miami Dade Human Services it faced the challenge of integrating three geographically separated Datum Mobile Track 5 (MT5) high density rolling file systems into one central file room consolidated storage system. In addition to the three mobile filing systems, ELC had to transfer the confidential color-coded end tab folders and file pockets from the 4 Post Shelving in each system into one consolidated compressed storage system in ELC's new Doral FL central file room warehouse. Since the documents contained sensitive child development information complete security had to be maintained throughout the move.

Solution: Advanced Filing and Florida Office Systems used Datum's Configura drawing tool to design one system from the 4 Post Shelving, Tambour Door, MT5 carriages, steel rail and polyvinyl deck from the 3 mobile filing systems in Narranja, Coconut Grove and Miami Gardens. Our expert designer created a solution that utilized all of the rolling carriages, un-grouted deck, steel ramp and 1" rails in the 3 separate high density system. Our Datum Certified Installer (DCI) took the design and turned it into reality. But the process began when our professional services team unloaded the confidential files from the 4 Post Shelving onto Library Carts. The professional services team used the folders and file pockets patterns of color wrapped around the Redrope Pockets and Manila Folders End Tabs to maintain the integrity of the alphabetic system. The Professional Services team unloaded the files in reverse order onto the carts, wrapped the carts in black shrink wrap the tapped the shrink wrap. Torn tape over the shrink wrap would reveal the folders had been tampered with. After the team loaded the files onto the carts, they pushed the carts up a ramp onto a 53' trailer then stored the trailer in a secure area. The professional service team reversed the process when it re-loaded the folders onto the new central file system. Florida Office System's attention to detail and meticulous filing protocol ensured the folders chain of custody went unbroken. Florida Office Systems combined the talents of its Design, Project Management, Installation and Professional services team to complete this project on time without a single security breach. With the File Pockets and Folders back in place ELC's file room staff can utilize the computerized bar code tracking system to continue maintenance of the chain custody going forward.
Case Study: A storage solution for Mobile High Density Rolling File Move and Reconfiguration Project
Client: Boar's Head Corporate Headquarters
Location: Sarasota, FL
Challenge: When Boar's Head Corporate Headquarters in Sarasota Florida leased new space to expand corporate headquarter it discovered the new area's floor would not support the load of its Datum MT5 high density rolling file. They called Advanced Filing to work with their architect to design a static system to repurpose their mobile system's Mobile Stak legal depth cabinets into a static system with the same lineal filing inch capacity and at the same time meet the lighter floor loading requirements.
Solution: Advanced Filing and Florida Office Systems disassembled the MT5 system from the top down.
First it removed the Mobile Stak legal depth cabinets and replaced the 1 inch mobile bases with new 4" bases equipped with leveling glides. Advanced Filing's Datum Certified Installer (DCI) adjusted the new leveling glides and overhead anti-tip stabilizing bars to safely secure the units in the vertical and horizontal. With the Mobile Stak Cabinets safely reconfigured from a double aisle carriage mounted rolling configuration to a stationary multiple aisle layout Advanced Filing satisfied Boar's Head's twin objectives. The repurposed Mobile Stak cabinets provided file room staff with the same capacity and the revised stationary design enabled the floor to hold the loaded cabinets.
| | |
| --- | --- |
| BEFORE: | AFTER: |
Case Study: A storage solution for hard copy mail
Client: Miami Seaport Mail Station
Location: Miami, FL
Challenge: As the world's busiest seaport, Miami-Dade County Seaport Human Resources needed additional capacity to handle the hard copy mail required to staff 400 positions. Miami-Dade Seaport renovated its administrative directorate for human resources to manage its staff that operates the world's largest cruise line seaport. Its existing mailroom lacked the quantity of mail slots to handle the diverse quantity and size of mail and packages it sorted on a daily basis.
Solution: Advanced Filing Systems and Florida Office Systems designed and installed a heavy duty Datum Mail Sorting Station to provide Miami-Dade Human Resources the capacity and flexibility to process the heavy mail volume that consisted of a diverse size of boxes, envelopes and packages. Datum's slide out Sorting Shelves allowed Miami-Dade Human Resources to size their mail slots to manage the quantity and variety of documents handled on a daily basis. The Sorting Stations bi-slider doors provided private storage for supplies and large packages, the 7" Riser raised Sorting Bins above the Work Surface to allow mail handling on the entire 24" depth of the Sorting Station. Finally, the slide-in slide-out sorting shelves allowed Human Resources employees to size openings for flexible mail handling regardless of package dimensions. With its new mail station in place, Miami-Dade Human Resources gained the capacity and flexibility to support the world's largest cruise line port.
| | |
| --- | --- |
| AFTER: | |
Case Study: High Density Storage Equipment Relocation
Client: Broward County School Board
Location: Ft. Lauderdale, FL
Challenge: When Broward Schools Facilities Department had to move on short notice from Lauderdale Manors Elementary in Wilton Manors, FL to Sunset School in Riverland, FL, they called on Advanced Filing and Florida Office Systems to disassemble, pack for moving and reassemble their sophisticated high density filing equipment. Advanced Filing and Florida Office Systems deployed two teams of Datum Certified Installers (DCI) to disassemble, pack for relocation and reassemble three types of equipment; a Kardex High Density Mechanical Assist Mobile Filing System, a Kardex High Density Electrical Assist Compressed Mobile Filing System and 12 Richards Wilcox Aurora Times X2 Rotary File Cabinets. Most of the electrical contacts and switches on the electrically powered compressed mobile system had failed and the resulting system malfunctions stopped the mobile carriages from moving along the rails. When Broward Schools staff engaged the start/stop buttons mounted on the end panel mounted, the system frequently failed to move or stopped after moving slightly. The mechanical assist mobile systems also had a problem. It is lock/unlock magnetically controlled toggle switches mounted on the carriage end panel no longer worked. That prevented Broward School Board Staff from securing the mechanically powered rolling carriages. In addition to the Kardex Electrical and Mechanical Mobile Systems, Richards Wilcox Aurora's Times 2 Units had binding moments when School Board staff depressed the foot pedal to turn the Unit manually.
Along with the equipment problems, our Design team faced the challenge of fitting all the equipment in areas not originally built to house it. Moreover, Broward Schools changed the allocated space along with staff functions and workstations required in the new rooms.
Solution: We engaged Broward Schools Facilities and ACAI Associates in continuous dialog to stay abreast of the fluid floor space situation at Sunset School. Our designer used product specific design software to draw multiple options for consideration by the Broward Schools Facilities staff and their contracted architect, ACAI Associates. As the situation changed, our design staff quickly produced new designs to meet the new requirements.
Once everyone had agreed on the design, our install teams swung into action to re-install the equipment. Our electrical mobile system installers diagnosed the faulty contacts and switches then ordered replacements. We laid the rail, ramp and deck; replaced the faulty electrical parts in the safety sweeps, overhead scissor arms and carriage mounted control panels then placed the carriages on the tracks. Next, we built the shelving to provide maximum capacity for the things Broward School Board wanted to store. Our mechanical assist mobile filing systems team took a similar approach with the faulty magnet lock switches. Similarly, our Rotary X2 installation team re-leveled the X2 Bases, lubricated the Foot Petals and bent the sheet metal sides to prevent binding when the units rotated. When we finished the entire job 2 days ahead of schedule Broward Schools high density compressed storage equipment worked just like it did the day they bought it more than 10 years ago from Office Systems of Florida.

Case Study: Special Operations Command South (SOCSOUTH)
Client: Commercial Design Services (CDS)
Location: Homestead Air Reserve Base (HARB), FL
Challenge: SOCSOUTH quickly outgrew the 'temporary' trailers it moved to at HARB in 2004 as global pace of terrorist events increased. Its personnel lacked storage space for personal combat gear, medical supplies, 'Secret' classified equipment and warehouse storage. The US Army Corp of Engineers contracted Carothers Construction to build a new Headquarters. Carothers in turn selected Commercial Design Services to provide the furniture, fixtures and equipment. CDS selected the footprint reduction specialists at Advanced Filing to design the storage solutions.
Solution: We designed and installed Datum High Density Mobile Storage Solution to house the Medic's Equipment for quick access in the minimum space so that it was easily accessible for deployment. We installed fully welded TA-50 personal combat equipment lockers in the Men's and Women's Locker Rooms along with more TA-50s for secure storage of equipment in private offices and warehouses. Pallet Rack went into the Warehouse and Loading Dock for Bulk Items while separate Bulk Wire Storage Cages provided lockable storage for out-sized equipment. Advanced Filing finished this job ahead of schedule. The US Army Corp of Engineers post installation inspection grade came in with Zero defects.

| | |
| --- | --- |
| AFTER: | |
Case Study: A storage solution for employee uniforms
Client: Lee County Transit Authority
Location: Fort Meyers, FL
Challenge: Lee County Transit Authority, of Fort Myers, Florida wanted a neat, clean, and efficient way to store the transit authority's employee's uniforms.
Solution: Bill Wells of Advanced Filing Systems of Bradenton, Florida provided the solution, by using Datum Storage Systems garment racks in Datum's 4 Post L&T shelving. The rods are adjustable in height to confirm to almost any size garment. In the future when the Lee County Transit Authority needs additional storage space, the garment racks can be used on a high density mobile storage system to increase employee uniform packing density and reduce the physical space footprint required to store employee uniforms.

| | |
| --- | --- |
| AFTER: | |
Case Study: A storage solution for Palm Beach County Waste Management Documents
Client: Palm Beach County Waste Management and Nationwide Shelving
Location: 6651 N. Jog Road, West Palm Beach FL 33412
Challenge: Palm Beach County's Department of Waste Management recently added an additional plant to their current facility. As the new plant came with additional efficiencies and waste capacity, more documents will be generated. It was crucial for the end-user to be able to find their documents quickly and efficiently. As floor space in South Florida is at a premium, it was important for the filing system to take up as little space as possible.
Solution: A custom Richard Wilcox Aurora Mobile Filing system was designed to house and protect the Waste Authority's documents. Our custom design enabled the room where we installed the high density mobile system to be a multi-function/multi-use space. We designed the compacting high density storage system to run along the back wall so that the other part of the room can be used as a meeting room and or conference room.
The mobile system provides West Palm Beach Department of Waste Management a high capacity filing system, utilizing end-tab filing folders to maximize packing density. We installed the Richards Wilcox Aurora High Density System with chain boxes and left out the cosmetic end-panels to maintain a competitive price but still look good and maintain file integrity.
The end-user was thrilled with their new filing system, as it provides them with plenty of storage for their current documents as well as an abundance of space for future growth.

| | |
| --- | --- |
| AFTER: | |
Case Study: A Storage Solution for Ophthalmology Clinical Supplies
Client: University of Miami (UM) Bascom Palmer Eye Institute (BPEI)
Location: Naples, FL
Challenge: The UM BPEI in Naples FL, had outgrown it's existing location and needed more space for it's expanding case load. With land scarce and expensive in downtown Naples FL, it needed to make the best use of space in it's new building. UM BPEI turned to Advanced Filing and Florida Office Systems for high density storage solutions. UM BPEI also needed to track inventory of their equipment and supplies as well as secure their expensive clinical equipment and supplies to prevent theft and loss.

Solution: Advanced Filing and Florida Office System's experienced team of professionals designed a high density mobile storage system that maximized packing density in the small area allotted for eye surgery clinical supplies and equipment. The high density storage system mobilized shelves on rolling carriages to double the capacity that UM BPEI would have had with traditional shelving. With inventory control paramount, Advanced Filing and Florida Office Systems designed a labeling system mounted on the carriage end panels. This visible records system allowed UM BPEI to track inventory as it moved in and out of the compacted storage system. To prevent theft and loss, locks were installed on carriages at the end of the system so they could be securely locked when the mobile carriages were compressed together to form a solid cube. In summary, our systems approach to storage provided UM BPEI a secure, well organized storage system that provided the most capacity in the small amount of space provided.


| | |
| --- | --- |
| AFTER: | |
Case Study: City of Fort Lauderdale, Department of Sustainable Growth
Client: City of Fort Lauderdale
Location: Fort Lauderdale, FL
Challenge: Sustainable Growth houses all of the architectural plans and documents for the City of Ft. Lauderdale, Florida. Their plans and files are stored on traditional static industrial shelving units as well as anywhere else they could find. They found themselves out of space and in desperate need for additional workstations, as the City​ of Ft. Lauderdale ​ is now on the up-swing in growth, revenue and employees.
Advanced Filing Systems​, dba Florida Office Systems,​ was challenged with creating a new storage solution that would address the organization and consolidation of filing space for all of their exiting plans as well as provide for future growth.

Solution: Advanced Filing Systems​, dba Florida Office Systems​ identified an area outside of their existing cubicles where a High Density Mobile System fit perfectly. AFS designed a system to maximize packing density with 48" deep carriages riding on1" rail, installed with a poly-vinyl deck to eliminate tripping hazards, maximized their existing space, allowing for six new workstations to be installed where the static shelving had resided, while at the same time brought organization to the Planning Department so that the estimators and plan review group could find the plans and documents that they were looking for easily.

BEFORE: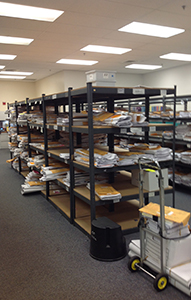 AFTER: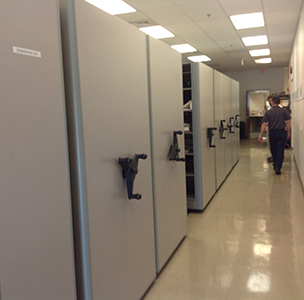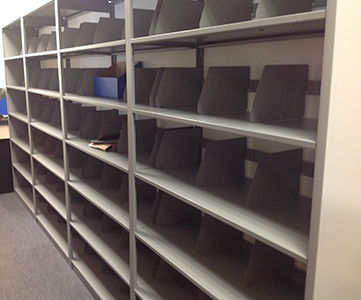 Case Study: Pharmacological Storage
Client: Tissue Tech

Challenge: Tissue Tech handles all the tissue samples and corresponding legal documentation required for harvesting the samples in Doral, FL. Tissue Tech has seen a tremendous growth in a relatively short time period which has lead to issues with storing all their growing paper based records. Tissue Tech has been steadily adding lateral filing cabinets until the entire perimeter wall is covered with them, and still documentation piles up in the room.
​Fort Lauderdale based ​Advanced Filing Systems​, dba Florida Office Systems,​ was challenged with creating a new storage solution that would address the organization and consolidation of filing space for all of their exiting plans as well as provide for future growth.
Solution: Advanced Filing Systems​, dba Florida Office Systems ​ identified the existing area where files were stored to be the perfect location to install a High Density Mobile System. AFS designed a system to maximize packing density with 24" deep carriages riding on 1" rail, installed with a poly-vinyl deck to eliminate tripping hazards, ​ our solution ​maximized their existing space, giving Tissue Tech a 630% increase in capacity.
AFTER: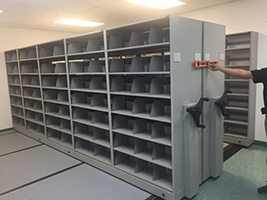 Case Study: Bulk inventory storage​
Client: Carisam Ltd.
Location: Doral, FL
Challenge: When faced with having to move their bulk inventory storage to a much smaller area, Carisam Ltd. had to find a way to condense and properly organize their stored goods. Due to the nature of their products, which consisted of boxes filled with glass bottles and other miscellany, their original plan was to outfit their new facility with pallet racks. The shelving was ideal, but they still needed more storage in the space they were allotted, so a high density system was needed.
Solution:A custom MobileTrak® system was built to accommodate the pallet racking the company had already purchased. Special carriages were designed to hold the weight of the shelves and large aisle ways were provided to make room for transport carts. The high density system provided 70% more capacity in the same footprint as the previous stationary pallet rack set up. This provided a better way to store their inventory and made it easier to access the items.
AFTER: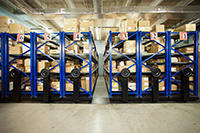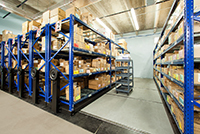 Case Study: Laptop Lockers
Client: FLORIDA ATLANTIC UNIVERSITY Lifelong Learning Center
Location: Jupiter, Florida Campus
Challenge: Laptops walked away. FAU needed to secure them.
Solution:The Computer Analyst for the Life Long Learning Center (LLLC) contacted Datum for a dealer that could assist in the security of laptops that were going to be positioned in public spaces.
The LLLC conducts programs in an auditorium setting and utilize laptops at key entry- points to check the attendees in and out.  The laptops are currently sitting on high- top round tables, but the tables offer only someplace for the laptops to sit.  They do not provide for security or storage issues, which are critical to the seamless operation of check- in/check-out procedures.
The Laptop Locker by Datum, mounted on the wall at key entry and exit points. The LTL offered everything the Computer Analyst imagined.  The hidden cable opening on the underside of the unit was a pleasant surprise, as our analyst was wondering how the cables would be accessed.  Additionally, the mounting bracket, offering 45 as well as 90 degree angles opening, gave LLLC full open access of the laptop while in use, while completely folding down when stored and locked.
This solution exceeded all of our Analyst's hopes for a solution to their exposed laptop dilemma.

Shortly after they were received and installed, attributes not discussed on the Datum Website or brochure brought a smile to the Computer analyst's lips.
The hidden cable port
The 90 Degree hinge opening, as the pictures all reflected 45 degree angle opening.
Due to the huge success of the initial order, another unit was ordered immediately thereafter and more are scheduled to come in 2017.
AFTER: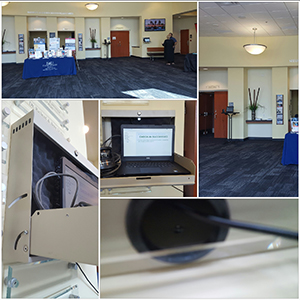 Case Study: New Filing System for Patient Records and Patient Provider Records
Client: Visiting Angels
Location: Palm Beach Gardens, FL
Challenge: Files were difficult to locate. Space was limited and being wasted on inefficient shelving units. Business is in growth mode and space was quickly being outgrown. Transition to Home Health Agency required additional compliance regulations for client and patient confidentiality.
Solution: Datum Stak-N-Lok Series Filing Unit with End –Tab file folders and color coded labels. The system offered maximum storage capacity along with an eye readable system to eliminate mis-files. Eliminating mis-files cuts down on time wasted searching for lost or mis-placed files. Additionally, utilizing end-tab offers easier identification than top-tab filing and saves shelf height, again improving storage capacity.
All HIPAA document security standards are being met by the Agency.
Filing systems may not be cash generating systems, but maximizing space and employee efficiency are COST SAVERS!!
AFTER: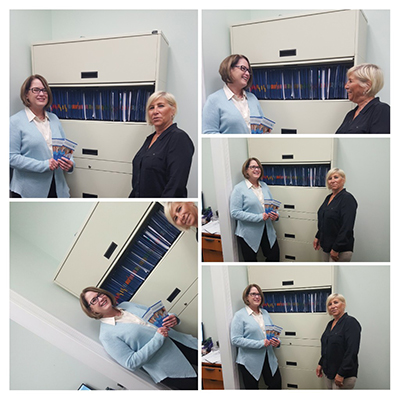 Case Study: Kardex Lektriever Replacement with Russ Bassett Cabinets for Storage of Crime Scene Images
Client: Miami Dade County Police Department Crime Scene Investigative Support Section/Forensic Imaging Unit
Location: Doral, Florida 33172
Challenge: CSI's 25 year old Lektriever stored critical Photos and CD's with Images of Crime Scene Evidence. This evidence is crucial to law enforcement support of criminal investigations and must be available at a moment's notice. Because of its age and the difficulty of finding parts to support it, the Kardex Lektriever 80 Electronic Lift Machine became unreliable when CSI staff attempted retrieval of the critical crime scene images stored in the Lektriever. Its frequent break downs jeopardized CSI's ability to get the evidence contained on their Photos and CDs.
Solution: Advanced Filing Systems recommended replacing the electrically driven Kardex Lektriever 80 with a Russ Bassett Pro-Media CT48-7-8-L mechanical Drawer Cabinet designed to hold CDs and Mug Shots. The new Russ Bassett Cabinet requires no support or maintenance and its drawers are equipped with moveable dividers to adjust the space for CDs, Microfilm Rolls or old fashioned Photographs. Together with CSI staff, Advanced Filing Technicians planned the transfer of MDPD's media so that it would be available throughout the change out process. MDPD's CSI Unit worked hand-in-hand with Advanced Filing Staff to transfer its Mug Shots and CDs onto Library Carts so that this critical media would be available during the Kardex Lektriever disassembly and haul out. Because the new Russ Bassett Units require no service or electricity – CSI doesn't worry about not being able to get their critical media. Since the new Russ Bassett is key lockable, it secures the Mug Shots and CDs from prying eyes. By swapping their old Lektriever for a new Russ Bassett Cabinet, CSI saved the cost of periodic Lektriever service and gained the confidence that their critical evidence will always be available to support law enforcements ongoing fight against crime.
| | |
| --- | --- |
| BEFORE: | AFTER: |
Case Study: Evidence Storage Solution for Oversize Posters
Client: Miami-Dade County Clerk of the Court
Location: Doral, FL
Challenge: Miami - Dade County's Clerk of the Court archives all the Poster Story Boards used in criminal cases in the Miami-Dade Circuit. Since lawyers use these story boards as part of their prosecution of homicide cases they must be kept indefinitely. The Clerk had a large volume of Posters going as far back as the 1980s and over time they'd become disorganized and were stacked in piles throughout the evidence vault. The Clerk reached out to Advanced Filing Systems, dba, Florida Office Systems for a solution.
Solution: Along with our partner, Datum Storage, we created a high-density solution using off-the-shelf 4 Post Shelving Components to house large 4 ft. x 5 ft. Posters in a single tier open shelving unit and smaller 2 ft. x 3 ft. Posters in a double tier solution. Since we needed a 4 ft. Deep space to achieve maximum packing density, we butted two each 2 ft. units back to back to gain ft. of depth. Clerk staff now has the storage capacity to get all their Posters off the floor and house them in an organized and efficient manner. The Clerk's lead administrator complemented Advanced Filing's design and installation after the 18 May 2017 installation when she said, "Looks beautiful!! Thank you for your continued dedication to a quality product."
| | |
| --- | --- |
| BEFORE: | AFTER: |
Case Study: Kardex Lektriever Replacement
Client: Miami Dade Police Department Personnel Department
Location: Miami, FL
Challenge: Miami Dade Police Department's 30-year-old electrically powered Kardex Lektrievers stored critical personnel records on paper and microfilm. The Lektrievers had reached the end of their service life and broke frequently. As malfunctions increased - the Personnel Department found itself with frequent delays which in turn stopped access to records for days at a time while parts were sourced and then repaired. Staff frustration mounted each time the Lektrievers failed, work piled up and sensitive employee issues went unanswered. Their 6 Lektrievers contained a variety of media - Microfilm on Rolls and Sheets, Letter Size Personnel Classification Folders, Cans of Microfiche and Top Tab Folders. All this media was mixed up among the 6 Lektrievers. Advanced Filing faced a complicated logistical challenge - How to unload all the media, index it and make it available for staff access, then disassemble and haul out the 8'H x 5'D 8.5'W electrically powered machines, create a new filing system, install new mechanically driven storage equipment, devise a filing system, re-train staff on the new filing system, then reload all the media into new storage equipment. All without disrupting the Staff's workflow.
Solution: Advanced Filing proposed a system of Aurora's mechanically driven Times-2 (X2) Rotary Files to replace the electrically driven Lektrievers. Times-2s (X2s) can be configured with shelves or pull out drawers to hold a variety of media. Advanced Filing took advantage of this design strength to tailor each of the X2s internal configuration of drawers, shelves and pull-out posting boards to match up to the media that came out of the Lektrievers. Advanced Filing's experienced technicians started the project by unloading all the Letrievers into Open Shelf Double Sided Library Carts, so staff would have uninterrupted access. Next the Lektrievers were taken apart, loaded into trucks and driven to a steel recycling facility. With the room emptied of Lektrievers, the Times-2s (X2s) were installed and finally the Folders and Microfilm were loaded in. The Times-2s (X2s) provided more capacity in a smaller footprint than the bulky Lektrievers and gave Staff faster access to their media. Advanced Filing's design solved the electrical power issues, provided greater capacity, and with the implementation of computerized color-coded filing system labels the department was able to find folders quickly, not lose them and put them away in half the time utilizing the linear patterns of color that Advanced Filing designed.

Case Study: Broward College Microfilm Storage
Client: Broward College Registrar's Office
Location: Move from Downtown Broward location to new Weston Library location
Challenge: Broward College was faced with the challenge of retrieving up to 10 student records, up to 20 pages each, per day. These records date back as early as the 1970s and are stored on archival media, both microfiche jackets and 16mm roll film. Often times the images are not clear and multiple prints, wasting time and paper, are necessary to get a legible print.
As Broward College was closing the downtown location, and moving the Registrar's office to a new location, the idea arose to digitize the microfilmed records. This possible solution was going to be costly, as every image (over 300,000 pieces of fiche, 3-10 images per fiche,) was going to be scanned, even though a fraction would ever be accessed. At a minimum of $.95/image, Broward College was looking at a solution costing well over $400,000.00
Solution: Advanced Filing Systems proposed new microfiche/microfilm storage and upgrading to a new microform scanner. The new scanner is capable of scanning, digitizing or printing from all types of microform media: 16mm roll film, 24 x 48 microfiche and 35mm aperture cards. The scanner allows the end user to enhance an image, white out background noise or increase the DPI. Rather than printing every image, the end-user can e-mail the records directly to the requestor, thereby saving time and supply cost.
The new system allowed Broward College the advantage of instituting new technology, while enjoying the benefits of an old analogue technology. Definitely, the best of all worlds.
The newly designed storage room takes full advantage of the wall-space, allowing storage for additional media in open shelves, while microfiche jackets and roll film are stored in drawers.
The solution cost was $31,000.00 rather than in excess of $400,000.00!!